High Resolution Magnetic Survey Completed showing multiple follow-up targets for spring exploration program 

Proposed drill locations around the Tabor Mine are finalized and permitting is underway for maiden drill program 

Currently tendering for drill contractors for upcoming drill program 
Ashley Gold Corp. (CSE:ASHL) ("Ashley" or the "Company") is pleased to announce initial results of the Tabor Lake high resolution magnetic survey. Data quality is good and outlines multiple magnetic responses that show similar character to the mineralized Tabor Lake anomaly.  Quartz Feldspar Porphyry outcrops mapped in the 1980's correlate well to the first vertical derivative of the new magnetic survey.  In addition, several structural lineaments are interpreted across the area that correlate with known vein systems that have been historically assayed showing presence of gold mineralization.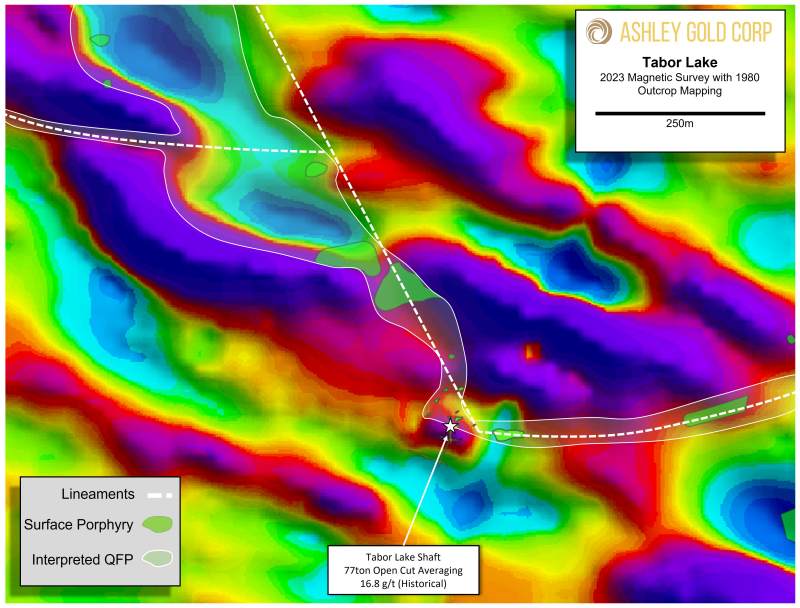 Click Image To View Full Size
Figure 1.  First Vertical Derivative 2023 Magnetic Survey showing outcrop locations and interpreted lineaments.
Update on Drilling Program
Permitting for the Tabor Mine drill program is under way with drill date expected to be in June.  The intent of this program will be to confirm mineralization between the 125 and 250 foot levels of the historical underground workings.  In addition, sampling of the quartz feldspar porphyry "wall rock" outside of the vein system will be critical to understand bulk tonnage potential.  Previous resampling within the historical workings shows a non-compliant average grade of 0.59 g/t Au within samples described as "wall rock".
Darcy Christian, President commented "I am very excited to move our understanding of the Tabor Mine mineralization forward with our first drill program.  If the upcoming program confirms mineralization in the wall rock and historical vein grades of up to 838 g/t Au, it could be quite a compelling story for Ashley and the Tabor property"
Application for drilling is underway and tendering for drilling contractors is commencing.  The Tabor Lake Mine is located on a Mineral Lease which should allow for a timely turn around of exploration permits.  Drilling is expected to commence in June subject to permitting and rig contract.
The Qualified Person responsible for the technical content of this press release is Shannon Baird, P.Geo, Exploration Manager of Ashley Gold Corp.
Issue of Options
The Company is also pleased to announce it has approved the grant of 350,000 incentive stock options to officers, directors, and consultants of the Company, at an exercise price of $0.12, and expire on April 19, 2028.
ABOUT ASHLEY GOLD CORP.
Ashley Gold is focused on creating substantive, long-term value for its shareholders through the discovery and development of world class gold deposits. Ashley currently holds an option to earn 100% interest in the Ashley Mine Project, subject to a 2% royalty. In addition, Ashley has acquired, 100% of the Tabor Lake Lease subject to a 1.5% royalty, 100% of the Santa Maria Project subject to a 1.75% royalty, 100% interest in the Howie Lake Project subject to a 0.5% royalty and 100% interest in the Alto-Gardnar Project subject to a 0.5% royalty.
Ashley Gold Corp. is an early-stage natural resource company engaged primarily in the acquisition, exploration, and if warranted, development of mineral projects. The Corporation's objective is to conduct efficient and economical exploration on its growing portfolio of high-quality gold projects, currently focused in northeastern and northwestern Ontario within the western Abitibi and the Eagle-Wabigoon-Manitou Lakes Greenstone Belts.
The responsibility of this release lies with Mr. Darcy Christian, President and CEO • +1 (587) 777-9072 • dchristian@ashleygoldcorp.com , may be contacted for further information. www.ashleygoldcorp.com
Neither the CSE nor its Regulation Services Provider (as that term is defined in the policies of the CSE) accepts responsibility for the adequacy or accuracy of this release.
DISCLAIMER & FORWARD-LOOKING STATEMENTS
This news release includes certain "forward-looking statements" which are not comprised of historical facts. Forward-looking statements are based on assumptions and address future events and conditions, and by their very nature involve inherent risks and uncertainties. Although these statements are based on currently available information, Ashley Gold Corp. provides no assurance that actual results will meet management's expectations. Factors which cause results to differ materially are set out in the Company's documents filed on SEDAR. Undue reliance should not be placed on "forward looking statements".
Copyright (c) 2023 TheNewswire – All rights reserved.